Our Services
For Physicians
We offer cutting-edge technology, advanced testing, and solutions for optimal patient outcomes with reliable results.

We accept all major insurances
When choosing a lab, we know that cost is a major factor and have you covered. We accept all insurances with minimal out-of-pocket costs to you.

We integrate with your practices
A seamless transition with all the added tools to ease your workflow with little to no interference.

We cater to different specialists
Our robust menu can cater to many specialty practices with testing from the most common disease areas such as cardiovascular, autoimmune, diabetes, women's health and hormones, and more!

Ease of blood draw
We require only what we need for testing, so that means minimal tubes being drawn for each patient. We also provide phlebotomy solutions for when you need them.
Access our Physician Portal from anywhere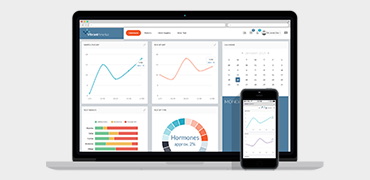 dashboard
We have designed a wonderful and robust alternative to a traditional EHR. With a comprehensive and interactive dashboard you are just a few clicks away from customized charts, ordering tests, adding chart notes, and so much more, all at your fingertips.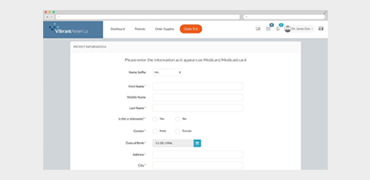 order tests easily
Ordering is easy and convenient. With our approach to 1-step ordering, entering your patient's name and demographics, selecting tests, and submitting the order has never been easier. You can also add on tests while testing is in progress and you never need to re-enter a patient after the initial order.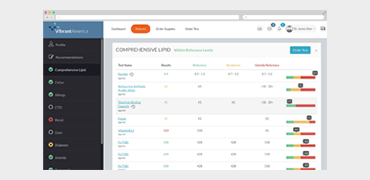 easy-to-read results
We take the guesswork out of understanding your patient's test results with our easy-to-read color-coded report format.
Specimen Collection and Handling
Please draw and process tubes in the following order.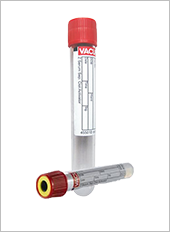 SST-GBO 7.0mL SST
(Red Cap-Yellow Ring)
Draw 1st

Fasting: Recommend 10—12 hours (for VA tests only)

Processing: Gently invert tube 8-10 times to mix adequately.Allow to clot standing upright in tube rack for 30 minutes. Place tube in centrifuge.

Centrifuge: 3300 RPM for 20 min *must be spun within 2 hours of draw

VA Tests: All, except those listed with other tubes below.

VW Tests: All zoomer tests (except Gut Zoomer), Food Sensitivity, IBSSure,Tickborne, all Component (IgE) tests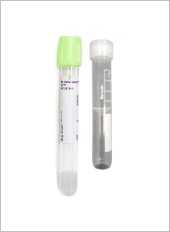 Plasma-BD 3.0 mL Plasma Separator (Light Green) & Transfer Tube (Clear)
Draw 2nd

Fasting: Not required

Processing: Gently invert plasma separator tube 8-10 times to mix adequately. Centrifuge tube. Pour off plasma into transfer tube.NOTE: Transfer tube must be labeled as "plasma," along with TWO patient identifiers.

Centrifuge: 3300 RPM for 15 mins *must be spun within 2 hours of draw

VA Tests: Myeloperoxidase (MPO)

VW Tests: None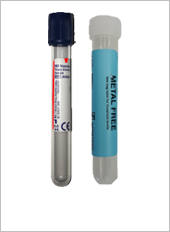 MN-BD Vacutainer™ Trace Element Silicone Coated SERUM 6mL Tube (Blue Top) & TES-Sarstedt™ Metal Free 6mL Transfer Tube
Draw 3rd. TWO tubes are required for Micronutrient.

Processing: Gently invert 8-10 times RIGHT AFTER DRAW to mix adequately. Let sit at room temperature for 30 minutes. IMMEDIATELY centrifuge after 30 minute wait.

Centrifuge: 3300 RPM for 15 minutes.

IMMEDIATELY remove blue top from tubes and transfer serum to the clear transport tube with a PIPETTE. Minimum 3-4mL serum is required (atleast half the transfer tube).

DO NOT transfer whole blood on bottom of tube.

Label transfer tube "TES" along with two patient identifiers.(Metal free transfer tube pictured must be used to ensure accurate results)

Recap blue top tubes and send with rest of sample.

VA Tests: Micronutrient

VW Tests: None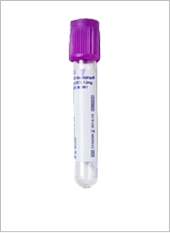 EDTA-BD Vacutainer™ K2EDTA 4mL Tube (Lavender)
Draw 4th

Fasting: Not required

Processing: Gently invert 8-10 times to mix adequately.

DO NOT CENTRIFUGE

Place all K2EDTAs into provided bubble bag and seal. *Micronutrient requires THREE lavender tubes. **Omega Fatty Acids requires its own lavender tube.

VA Tests: Celiac Genetics, HbA1c, CBC w/ diff. and platelets, Reticulocytes, Immature Platelet Fraction, Vibrant Genetics,Micronutrient*, Omega Fatty Acids**

VW Tests: Celiac Genetics, CardiaX, ApoE,Tickborne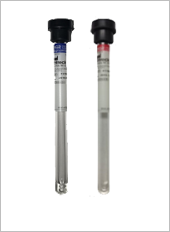 ESR-ESR Vacuum Tube 1.2 mL (Black)
Draw 5th

Fasting: Not required

Processing: Must be filled exactly to line on bottom of tube label. Gently invert tube 8-10 times to mix blood adequately.

DO NOT CENTRIFUGE*Locations above 2500 ft. will need to use a high altitude tube (blue label), available by request, otherwise specimen will be underfilled and rejected.

VA Tests: Erythrocyte Sedimentation Rate (ESR)

VW Tests: None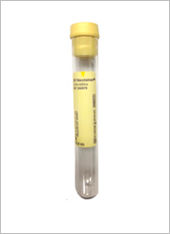 Urine-Urine Transfer Tube 10 mL (Yellow)
Fasting: Not required

Processing: Collect urine sample in a urine cup and transfer to urine tube, by hand or with transfer straw. Samples left in urine cup will NOT be accepted.

VA Tests: Microalbumin, urine

VW Tests: None
IMPORTANT NOTICE:

LABEL ALL TUBES WITH TWO PATIENT IDENTIFIERS. PLEASE REFER TO OPPOSITE SIDE FOR COMPLETE INSTRUCTIONS.
Shipping
Draw samples Monday through Friday. We are open to receive samples on Saturday.

We do not recommend drawing and shipping samples on Saturday, as we are closed on Sunday.

Pre-freeze your ice packs at least 24 hours before use.

To schedule a pick-up, please contact Vibrant America.
Rejection Criteria
Unlabeled or mislabeled tubes (must have 2 patient identifiers, e.g. full name and DOB, and match with requisition exactly, no nicknames or abbreviations).

Delayed specimen shipping (must ship samples daily).

Sample arrival at room temperature.Hemolytic, icteric, or overly lipemic samples (test-specific).

Improperly processed tubes.
need more supplies or have any questions?

Please call Vibrant America Physician Services
P: 866-364-0963 | F: 650-508-8262

Email: support@vibrant-america.com
Specimen Ordering & Shipping
Please follow the instructions below to ensure proper sample processing.
Any errors may result in sample rejection or delayed results.

1Order tests using the paper-based requisition form OR online in your account portal at www.vibrant-america.com.(Separate instructions apply when ordering online.)
2Fill out patient information section completely and accurately.Ordering physician MUST sign on the designated line.
3(PHYSICIAN) Select appropriate tests. Provide proper diagnosis codes (if ordering on Vibrant America requisition) based on selected tests. Please provide 2-3 codes per disease state, as supported by patient's medical history.
4Draw patient blood samples according to tests selected.Refer to opposite side for Specimen Collection & Handling instructions.

5Label drawn tubes with minimum two patient identifiers(e.g. name and date of birth). Must match exactly with what is written on requisition. *Any missing or discrepant identifiers will result in sample rejection*
6Place processed tube(s) in the provided biohazard bag.Do not separate tubes into separate bags.Seal completely and ensure samples are secure.
7Place requisition form in the back pocket of biohazard bag.Include patient demographics sheet, front and back copy of insurance card(s) (if applicable), and patient intake form (if VW tests are ordered).

8Place FROZEN ice pack(s) on the BOTTOM of the styrofoam cooler in your shipping box.
1 ice pack for small boxes
2 ice packs for medium boxes
9Place sealed biohazard bag(s) on top of the ice pack(s)
Max 1 bag in small box
Max 5 bags in medium box
10Place FROZEN ice pack(s) on TOP of sealed biohazard bags.
1 ice pack for small boxes (2 total in box)
2 ice packs for medium boxes (minimum 4 total in box)
*Additional ice packs recommended for hotter regions*
11Place styrofoam lid on cooler, fill out packing slip and seal up the shipping box. Ensure return label is adhered to box.

12Call Physician Services at 866-364-0963 or email support@vibrant-america.com, to schedule a pick up or if you have any questions.