HOW IT WORKS
Vibrant America is dedicated to delivering clinically relevant tests at a rapid pace to enable affordable high-quality diagnostics testing.
Our goal is to bring transparency to healthcare billing, so you have all the information you need to make decisions about your care.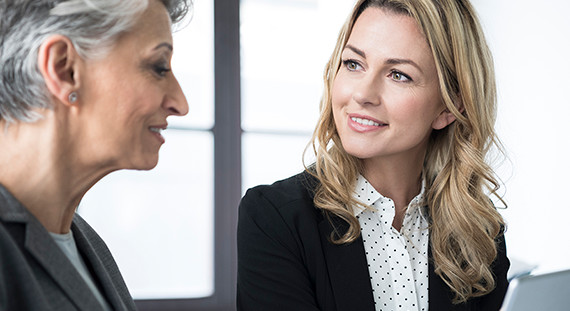 OVERVIEW
HOW DOES BILLING WORK?
Learn more about Vibrant-America's simple and transparent billing experience.
BEFORE GETTING TESTED
Vibrant America bills towards the majority of insurance plans.

No matter if our laboratory is in-network or out-of-network with your insurance provider, we are commited to making diagnostic testing affordable.

Medicare:

Vibrant America is a Medicare approved provider. If you only have Part A coverage, then lab tests will not be reimbursed by Medicare and you will be responsible for the payment. If you have Part B coverage and the tests ordered by your physician are determined by Medicare to be medically necessary, then the tests will be covered by Medicare. If there is a reason to believe that the test(s) may not be covered by Medicare, your medical provider will ask you to sign an Advanced Beneficiary Notice (ABN) informing you that you may have to pay if the test(s) are denied.
If you do not have insurance or are underinsured, we have EZ Pay options available
VIBRANT AMERICA RECEIVES AND STARTS
PROCESSING YOUR SAMPLE
Ask your physician to order the test for you. Once Vibrant America receives your sample, we will immediately start processing it to make sure you get your results as soon as possible.
VIBRANT AMERICA WILL SUBMIT A CLAIM TO YOUR INSURANCE CARRIER FOR REIMBURSEMENT
When your sample has finished processing and we will file a claim with your insurance unless another payment option was chosen.

The estimate is not a bill or a guarantee of your costs. Your actual costs and benefits may vary depending on your insurance company and your specific benefit plan.
YOU WILL RECEIVE OUR WELCOME LETTER
If you have healthcare insurance coverage, you will receive our welcome letter, which notifies you that Vibrant America has submitted a claim to your insurance company on your behalf for reimbursement.
YOU WILL RECEIVE OUR FINAL INVOICE
After your insurance processes the claim, Vibrant America will send you a letter to notify you that your statement is ready to view on the patient's online portal.

If you chose to pay without insurance, you will receive an invoice once your sample is done processing. You can pay online, over the phone or by mail.
HEALTH SPENDING ACCOUNTS
Currently, Vibrant America are not accepting HRA/HSA/FSA/HCA accounts, however if we are not able to identify at the time of testing, that you have a Health Spending Account which results in possible payment (withdrawal of funds), please contact our Billing Representative and they will work with you.
TERMINOLOGY
AN OVERVIEW OF TERMS
YOUR RESPONSIBILITY IS THE AMOUNT YOU SHOULD EXPECT TO PAY
This amount includes what you pay toward your deductible combined with any co-insurance or co-pay. Keep in mind that insurance will not pay until after your deductible have been met.
Whatever you pay for your in-network deductible, co-pay, and co-insurance will apply toward your annual out-of-pocket maximum. This is the most you are expected to pay in one year before insurance will pay the remaining cost for covered services.
More questions about insurance terminology?
Check out this resource: Healthcare.gov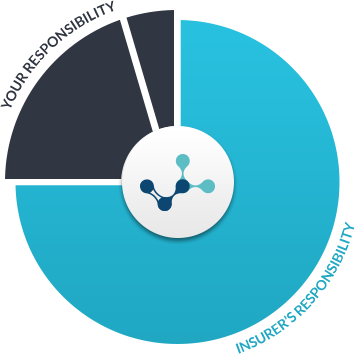 DEDUCTIBLE
This is a specified amount of money that you must pay out-of-pocket before your insurer will pay for any healthcare expenses.

Before you've met your deductible, you would be responsible for 100% of the cost until you reach your deductible.

Whatever you pay towards your deductible will be contributed toward your annual out-of-pocket maximum.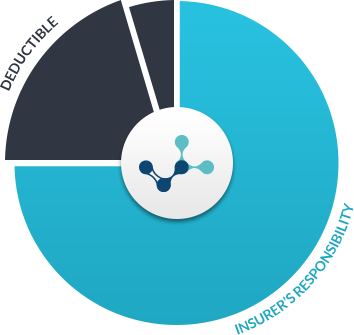 CO-PAY/CO-INSURANCE
A

copay

is a pre-determined, fixed amount you are required to pay for a covered healthcare service, usually at the time of service. The fixed amount is based on the type of service and can vary depending on your health benefit plan.

Co-insurance

is a portion of the amount you are required to pay for a covered healthcare service. The percentage is based on your insurance plan as well as the service. A deductible is commonly used together with Co-insurance. In this case, Co-insurance applies after you have met your deductible.

Whatever you pay towards your copay/co-insurance will be contributed toward your annual out-of-pocket maximum.
With most insurance plans, you will typically see some combination of deductible, coinsurance and copayments – or in some cases your plan may not have any of them. It will very much depend on your specific insurance plan so be sure to check the policy details so you know what your out-of-pocket payments will be.