Cardiovascular Health
Cardio- Vascular Health
In the U.S., every 34 seconds, someone has a heart attack and every 60 seconds, someone dies from a heart disease-related event. Know your results sooner by getting tested with Vibrant America's complete cardiovascular menu.
Cardio- Vascular Health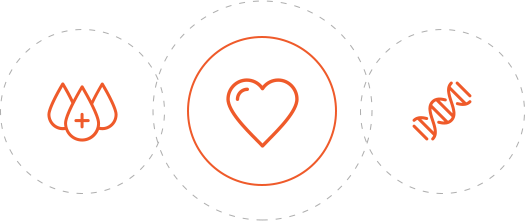 Heart disease refers to a variety of conditions that affect the heart—from infections to genetic defects and blood vessel diseases. Most heart disease can be prevented with a healthy lifestyle, yet it's the number-one health threat in the world, so it's important that your know your cardiovascular numbers. Vibrant America offers the most relevant tests available to assess your risk or for monitoring current conditions.
Heart disease is the leading cause of death for both men and women, and compared to men, women are just as likely to have a heart attack. However, more women than men die from heart disease each year and women are more likely than men to die after their first heart attack.
Reduce Your Risk!
Controlling some of your risk factors may help you reduce your risk of a heart attack or stroke by:
Decreasing your alcohol intake

Consuming a diet that is low in fats, sugar, salt and cholesterol, but high in fruits and veggies, whole grains and omega-3's
Exercise, exercise, exercise

Quit smoking

Controlling your BP, cholesterol, diabetes, and weight
Heart Disease Risk Factors
High LDL cholesterol

High blood pressure/hypertension

Smoking

Diabetes

Overweight/obesity
Diets high in saturated fats and cholesterol

Physical inactivity

Excessive alcohol use

Family history
Cardiovascular Health Tests
Cardio- Vascular Health Tests
HOW DO YOU ORDER VIBRANT'S CARDIOVASCULAR HEALTH TEST?
Vibrant's cardiovascular health test is only available to order through your provider. If your physician is not in our network, please contact us.
Know Your Numbers!
Every year, about 600,000 people die of heart disease in the U.S., according to the Centers for Disease Control and Prevention. That is about 1 out of every 4 deaths. Heart disease is the leading cause of death for both men and women.
% Heart Disease Deaths by Ethnicity

This test has been developed and its performance characteristics determined by the CLIA-certified laboratory performing the test. This test has not been cleared or approved by the U.S. Food and Drug Administration (FDA). Although FDA does not currently clear or approve laboratory-developed tests in the U.S., certification of the laboratory is required under CLIA to ensure the quality and validity of the tests.
1. Murphy SL, Xu JQ, Kochanek KD. Deaths: Final data for 2010. Natl Vital Stat Rep.2013;61(4). http://www.cdc.gov/nchs/data/nvsr/nvsr61/nvsr61_04.pdf[PDF-3M]
2. Go AS, Mozaffarian D, Roger VL, Benjamin EJ, Berry JD, Blaha MJ, et al. Heart disease and stroke statistics—2014 update: a report from the American Heart Association. Circulation. 2014 ;128.
3. Heidenreich PA, Trogdon JG, Khavjou OA, et al. Forecasting the future of cardiovascular disease in the United States: a policy statement from the American Heart Association. Circulation. 2011;123:933-44. Epub 2011 Jan 24.
4. Heron M. Deaths: Leading causes for 2008.[PDF-2.7M] National vital statistics reports. 2012;60(6).
5. CDC. Disparities in Adult Awareness of He`art Attack Warning Signs and Symptoms—14 States, 2005. MMWR. 2008;57(7):175–179.
6. Centers for Disease Control and Prevention. State Specific Mortality from Sudden Cardiac Death: United States, 1999. MMWR. 2002;51(6):123–126.
7. CDC. Million Hearts: strategies to reduce the prevalence of leading cardiovascular disease risk factors. United States, 2011.MMWR2011;60(36):1248–51.